Customised Information Systems
We are designing and implementing customised information systems and applications from bottom up. Our teams are well experienced and certified in their area of expertise. Teams are using modern technologies and best practices so our clients wished goals could be targeted.
We offer two most common development methodologies: waterfall and scrum.
Waterfall development method
The Waterfall development method is a classic approach which helps our teams to work in a continuous, step-by-step manner. With definite goals, once a phase of development is completed, we proceed to the next without turning back.
Scrum development method
The Scrum development method helps our teams to work faster with any technology, platform and programming language. With a constantly changing and flexible work model, the Scrum model helps the team work aggressively in achieving project deadlines.
We also offers deployment and further maintenance of your existing software and infrastructure.
What can we help you build with custom applications development?
Our work system
How do we work? Our main goal is to 100% meet our clients' expectations and minimize the cost of hardware and software using open-source technologies and tools. We are focusing on modern and multilayered architecture with an emphasis on the application of the right technology to maximize the added value for a particular system. Currently, there is a strong trend in the use of mobile devices and that's why our solutions are always responsive and ready for use on any kind of device.
Our priorities are: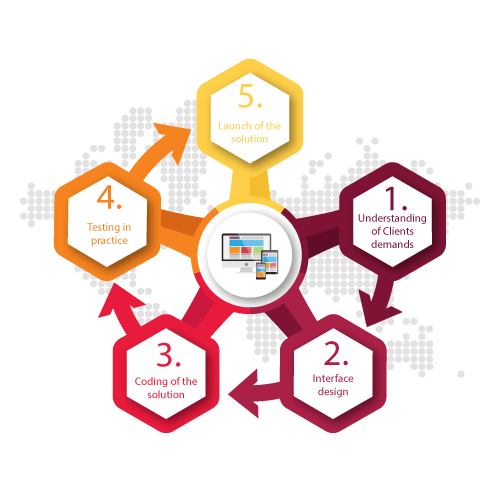 Are you interested in our services?